May Events at CMS
Byline:
CMS Communications
As you can see from our lengthy list of upcoming events, May is an exciting and busy month at Cambridge Montessori School!
Our biggest community event of the spring will take place on
Saturday, May 20th
, when we will host our second annual
Webster O'Brien 5K,
honoring the life and legacy of Webster O'Brien, a former CMS board chair and beloved parent of two CMS alums. As a tireless champion for CMS, Webster left an indelible mark on our community and played an instrumental role in leading the Board of Trustees during a pivotal time in the school's history.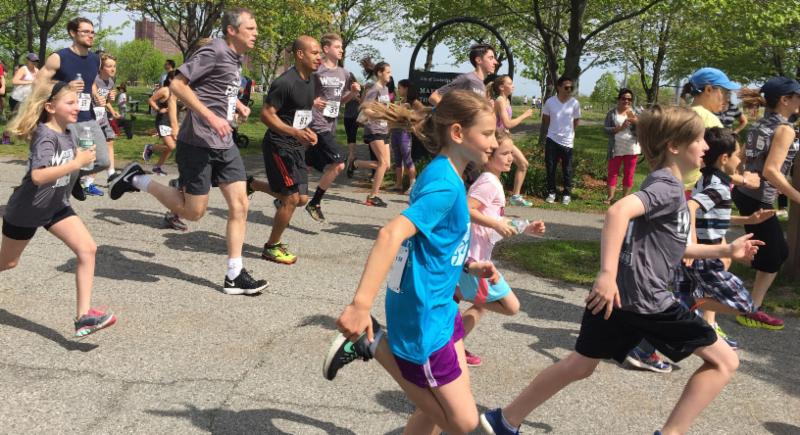 The
Webster O'Brien 5K
was created in his memory to celebrate his love of Cambridge Montessori School, running, and travel; the money raised by the run
funds a travel stipend that is awarded to one or more alumni of the CMS Middle School each year. Last year, we received a number of thoughtful applications, and were able to award three stipends, totaling nearly $2000, to three talented and spirited alums who were selected on the basis of a an application detailing their travel plans and how their experience at CMS has impacted their lives.
The 5K is a three lap loop around Danehy Park, and is open to runners and walkers of all ages and abilities. You can register online through our RaceWire registration site - all pre-registered participants will receive a high quality athletic shirt! We hope that you will join us for this special community event.
Throughout the month, our students work will be on showcase all around the school campus. On
Friday, May 5,
the Middle School will hold a Film Festival in the gym, where they will share the films they have created as part of their electives program. On
May 18
, Upper Elementary students will perform their production of
Count Karlstein
under the tutelage of our theater arts teacher Wendy Stuart. On
May 21
, our Primary students will stage their spring concert at the International School of Boston. On the
evening of Thursday, May 25
, we celebrate our visual arts program with the
Festival of the Arts,
where we transform our Elementary and Middle School buildings into galleries to display our students' artwork from the year. Our final community event of the month will take place on the
morning of Friday, May 26th,
when we welcome our CMS grandparents and special friends to join us on campus!
Of course, last but not least, our Elementary and Middle School students culminate the year by taking part in important yearly trips to Puerto RIco, Kroka Expeditions Farm and Nature's Classroom. These trips, ranging in length and distance, give our students a guided opportunity to engage with and explore the world outside of Cambridge Montessori School.
May is, without a doubt, one of the busiest and most fun filled months at CMS. The weeks between now and the end of the year are sure to fly by, and before we know it we will be under the tent again, watching students cross over the bridge, celebrating the end of another fantastic year. We hope that you and your family will join us for one of more of these events!